Fall Break is almost here and some may be wondering what they could do during the two weeks of free time. Well, there are several exciting activities to try out and many interesting places right here in Arizona to visit. 
The weather during the fall is great for hiking. There are numerous beautiful trails in which you can enjoy a nice hike and also the stunning fall foliage. For example, the Aspen Nature Lollipop Trail in Flagstaff is just 2.7 miles long. Here you can delight in the breathtaking colors of the brilliantly yellow aspens. Mr. Kagen Croswhite, the CHS Hiking Club adviser, says that in the Phoenix area, the best time of year for hiking is "from fall to early spring." Croswhite recommends hiking with a friend or in a small group: "If you hike with others, it's a way to build community. It is also a way to test your limits and know how far you can push yourself." Bring a friend or family member along on a hiking trip to make it even more enjoyable.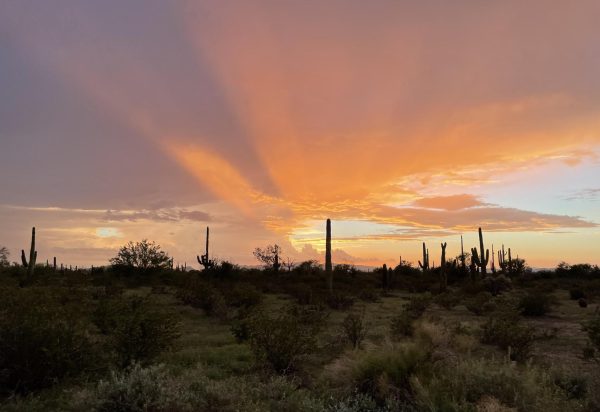 Another trail you could try is the West Fork Trail in Sedona. According to Katie Lawrence, an avid hiker, "This 7.2-mile adventure features some of the most striking fall colors across the entire state, in a vast array of breathtaking colors."
If you are still hoping to enjoy the plethora of colors from fall leaves but are not into hiking, you might consider the Verde Canyon Railroad's Fall Colors Tour in Clarkdale. This amazing ride on board a historic train tour takes place in October and November. The autumnal colors of the trees "offer a stark contrast to the lofty red rocks surrounding them," a truly remarkable sight, says Lawrence. 
Do you want to take part in delightful traditional fall activities? Go to Apple Annie's Orchard in Wilcox. You can pick your own apples from the 10 varieties grown there and take them home. They also have a pumpkin patch and a 20-acre corn maze, the biggest corn maze in Arizona! Additionally, you can enjoy delicious treats such as the sweet and tart caramel apples or apple cider donuts made from freshly picked apples. 
You can also have a beautiful and relaxing experience at Carefree Desert Gardens in Carefree, Arizona. It is a 4-acre, city-owned garden where you can admire the desert flora. It is free to visit and there is even a farmers market on Friday mornings.
If you are looking for something more thrilling, a kayak trip in the Emerald Cave in Willow Beach would be a good idea. The walls lining the cave are 5,000 to 7,000 feet high and the water is a green tint due to a mixture of the cave walls' sunlight, algae, and brown tints. You can even choose a guided tour if you would like to. 
What about some nice travel destinations near the Phoenix area? Globe, Arizona is about an hour and a half from Chandler. Here you can enjoy the captivating architecture and walk through this iconic mining town's Historic Downtown District. Or learn more about Arizona by visiting the Besh-Ba-Gowah ruins at the museum a mile away. Another great travel destination and a perfect place to explore the outdoors is Payson. You can go biking, fishing, camping, or wildlife watching. And since it is at an elevation of just over 5,000 feet, it is a great place for stargazing. 
Overall, Arizona is home to remarkable places and infinitely entertaining activities for you to experience this fall. Don't be afraid to head outdoors and delight in these charming adventures.