The flag football team at Chandler High School has grown a lot since the sport first started at school, with the team having over twenty players on it. The 2023-2024 season went amazingly, with their record being 11-1 going into playoffs. This is the third season of the Lady Wolves flag football team but their their first official AIA season. Their first playoff game was on Tuesday, October 24, where they unfortunately lost 20-18. Overall, The Lady Wolves had an amazing season with so many victories, and we can't wait to see what next season brings.
Girls flag football is quickly becoming a popular sport in hundreds of high schools, but how did this sport soar to popularity?
According to Sutori, flag football originated back in the early 1900s when men at military bases found a fun way to play football without risk of injury through tackles. This sport has now progressed into an exciting and inclusive sport open to players of all ages and genders.
According to USA Today, there are 15,000-plus girls playing flag football at more than 700 high schools across America. Girls' flag football is rising in popularity for many reasons, one of which is how much it benefits women as a whole. Flag football helps improve hand-eye coordination and uses many different muscles which makes them faster and stronger.
Lei Fulilangi, a sophomore at Chandler High School, gave insight as to what this team is like. She states that the team's dynamic was rocky at first, with the girls not quite getting along, but as the season progressed they truly bonded. In addition to flag football, Lei is also a rugby player. Rugby is a very competitive sport, mentally and physically. Lei chose to do flag football while she was not doing rugby to keep in shape, and she ended up enjoying flag football way more than she thought she would. When asked what the appeal was to join the flag football team she says, "I joined so I had something to do in my [rubgy] off-season, and I'm enjoying being on the team so far." With the season coming to a close, Lei feels very fortunate to be a part of a team as amazing as this one.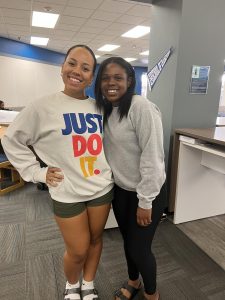 Danae Lilavois and Avalyn Roden, both seniors at Chandler High School, share the role of team captain on the Lady Wolves Flag Football team. Both captains were on the team last year and said that compared to last season, they played amazingly, which shows in their outstanding regular season record of 11 wins to 1 loss. The captains said that the players took the season much more seriously, with everyone putting their all into every game and practice. During their regular season games, these girls were the number one team in the division. The team's fan base is small; people tend to underestimate the sport and dismiss it as a fake sport, but Danae says, "You don't know about it until you watch it." They hope that the fanbase will grow because flag football is a very fast and entertaining sport, and flag football has now become an official Olympic sport.
The girl's flag football team is a team that deserves a lot more attention. The fan base will surely grow over the years to come, so make sure to show up for the girls in future seasons.