Are you still looking for a club to join? Are you interested in something that will let you be creative and imaginative? The Creative Writing Club held its first meeting of the year on Wednesday, August 30th from 2:30 to 3:00 p.m. This is a new club that accepts students with any level of experience in writing and does not require any materials. 
Mrs. Butenschoen, the sponsor of the club, thinks that creative writing "is a great outlet for students artistically… and to express themselves." Not to mention that it might help students spark and develop an interest in writing. She believes some of the benefits of creative writing are that "you get to collaborate, have a sense of community, and receive feedback." Some activities she hopes students will be able to take part in are conferences, writing contests, sharing their writing, and spoken-word opportunities. "It's going to be definitely student-led… they are the main component of my group," Mrs. Butenschoen said. Club meetings will take place twice a month on Wednesdays in room 204.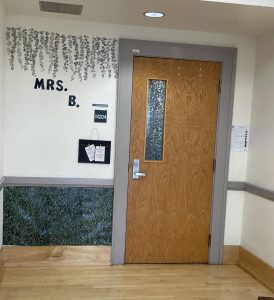 Club members have many interesting ideas to try out, such as themed writing, collaborative writing, participating in writing competitions, group character development, and more. A member of the club, 10th grade student Sophia Medal, said she would like to "experiment with different writing styles… or try writing in a different genre. Overall just sharing our writing and what we make with other people on our campus and in the community." These activities will all help promote writing skills and help students gain inspiration for stories or writing projects. Sophia expressed, "I believe writing is really important. It's a really good way for a lot of people to express their creativity. It's an essential skill that people need in their lives."
Story continues below advertisement
Creative writing is a fun way to express your ideas and use your imagination. Apart from having multiple benefits, creative writing includes a wide variety of forms, from songwriting and poetry to speeches, short stories, and more. So don't hesitate to check out the club and explore these exciting opportunities for you to be creative.