Doja Cat has been reportedly said to "not love her fans" causing her to start discourse online because of her negative comments and controversial behavior. A survey of students at Chandler High showed that many were not appreciative of Doja Cat's "new" attitude towards her fans. Many agree that she is "minimizing her success" because of her response to her fans. She replied to someone who asked her to say she loves her fans with, "I don't though cuz I don't even know yall." This and many other replies caused some of her online fans to start deactivating their fan accounts. Sophomore Mia Salinas said, "She should not be hating on people that support her. She is where she's at right now because of her fan base."
This isn't the first scandal that landed the artist in a tough situation. In the past year, there has been ongoing controversy after she debuted an edgier persona and style with a shaved head and bleached eyebrows. Her alter-ego, known as Scarlet, was introduced in her latest single 'Attention'. Earlier this year, she teased her fourth studio album, which she had originally called Hellmouth; she recently confirmed it will be titled First Of All. Doja Cat went on to tweet that her past two albums, Hot Pink and Planet Her, were cash grabs that her fans "fell for". She degraded all her past work and even her fanbase name "Kittenz", saying she made that up when she was an "alcoholic teen".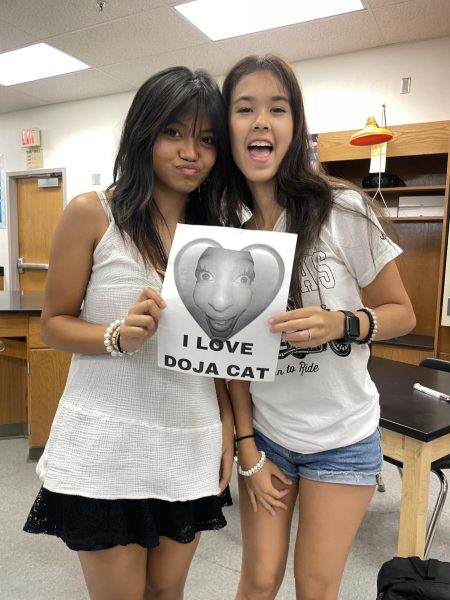 Despite all of these negative incidents, there are few fans there to try and understand her point of view. Senior Melia Aldous said, "I think she, as a person, isn't great, but I do still enjoy her music. I understand her distancing herself from her fans in an attempt to avoid parasocial relationships." While some say she can make a comeback, burning bridges with her fans is not ideal. Aldous added, "I think she needs to reconsider her actions. Realistically, an apology won't do much to help, but a change in her behaviors would be nice." The feud is still an ongoing discourse, and there is not much context to her behavior. The artist herself seems nonchalant about her fans, but relying on your support is crucial to success as a musician today.
Story continues below advertisement