The Rising Popularity of Boba Cutea
Throughout the past two years, boba has been rising to become a trending drink. Many boba shops have been becoming a popular trend, such as Boba Cutea. Boba Cutea is a boba shop in Gilbert. Their menu has a wide variety of different teas and smoothies. Unlike other boba shops in the US, which are more corporate-run, this boba shop is family owned.
The atmosphere is very calm and aesthetic and 'brings a welcoming feeling when you walk in!' says Lexi Renteria, a student at Chandler. The workers at Boba Cutea are efficient with their work. They are diligent when taking orders from their customers and get each order out in a prompt manner. When you first arrive, the workers greet you with a smile and welcome you into the shop!
The drinks on the menu have something different made within them, making each tea have a specialty. They have milk teas, brown sugar, bubble milk, fruit teas, and ice cream/crème drinks. The prices are very reasonable and affordable. Every tea is made with or without the tapioca balls for each customer's liking. The amount of sugar can range from no sugar to extra. They offer non-dairy milk options as well! The different teas they serve are all very delicious. The most popular tea they make is the brown sugar milk bubble. They also offer a selection of mochi ice creams and cheesecake! Each mochi is a delicious flavor of ice cream topped with tapioca balls!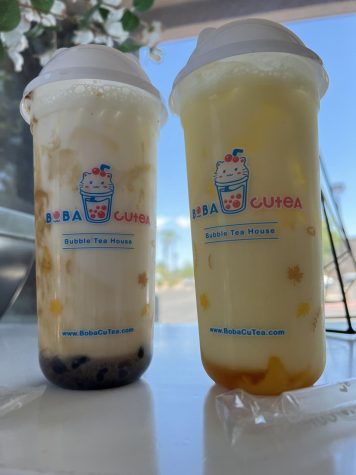 I have tried the mango-coconut milk tea. I think it could have more of a mango taste rather than just having the little pieces of mango in it. I have also tried the brown sugar milk tea. It barely had a brown sugar taste at all. It was milkier than any other flavor but still a refreshing drink.
To top it off, the booming popularity of their shop has received fantastic feedback. Some feedback is "Delicious and inventive drinks, super cute interior, great staff, and service!" and "The place is decorated very nicely and has a few tables for a small group." Their success has made it so they can expand their business to other parts of Arizona. So, support this local Boba shop, and enjoy the drinks!
Address: 694 S Cooper Rd #A1, Gilbert, AZ 85233
Open 12-8 every day.
Instagram: @boba.cutea.az