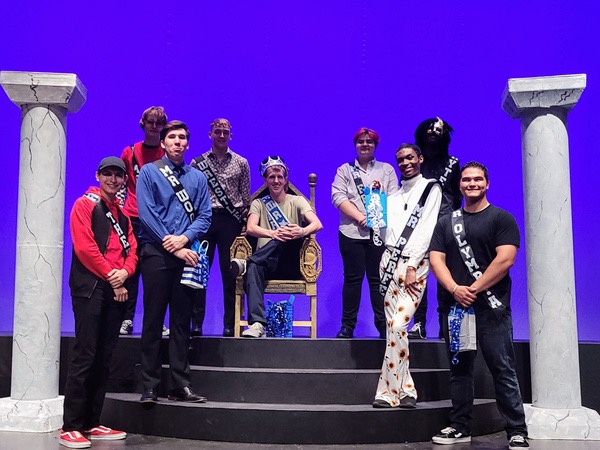 Chandler High School's International Thespian Society counsel and the APAC theater company collaborated on Thursday, May 14, 2022, to put on the beloved tradition of Mr. CHS.  Mr. CHS is a beauty-talent competition that focuses on the male students of Chandler High School. It has become a tradition that is redone every year, and continues to bring attention to the theater department. Throughout this competition a handful of participants get together to dress up, perform talents, and answer interview questions. With a panel of judges made up from different teachers of the school, students are slowly eliminated until the four main places are established. The ultimate winner is crowned Mr. CHS, with those close behind as first runner up and second runner up. A unique position known as Mr. Congeniality is also rewarded, going to the gentleman who has been the most friendly and helpful throughout the show, an honor that is only voted upon by the other contestants. This show has a lot of work put into it: rehearsals, script-writing, and stage and prop designing. 
Ryan Cogley, a member of APAC and a part of the CHS International Thespian Society council explained the process behind the show. He recounts that the show has gone on for years and says, "although [it's] a bit rocky and unpredictable, the event as a whole was very successful and was another step into the theater [program] of Chandler High." The ITS council has three elected members that represent Chandler High's troup 1706, led this year by seniors Ryan Cogley and Kayla King, and junior Nicki Glorioso. They helped determine the theme for the night along with writing the script for the event.
As the event drew closer, many things were switched or changed, to better adjust to the flow of the night, making it unique and certainly unforgettable. The ITS council served as emcees for the night, introducing acts and providing commentary for each contestant. Their main goal is to support the participants and make sure that the show runs smoothly. APAC also made an appearance, providing the entertainment between portions of the show. With a theme of Oscars, the actors in APAC performed a variety of skits based around the most popular movie genres. These enjoyable acts provided a smooth transition throughout Mr. CHS. After the categories and voting, it was decided; first runner up belonged to Chase Winkelman, as Josh Newton took second runner up, and Mr. Congeniality was awarded to Martin Ibarra. Finally, Mr. CHS was awarded to Cameron Flores. Through a whirlwind of laughter, talents, and poses, the fine men of Mr. CHS were shown off, and the theater department was able to revel in a much-missed and long-awaited Chandler High School tradition.